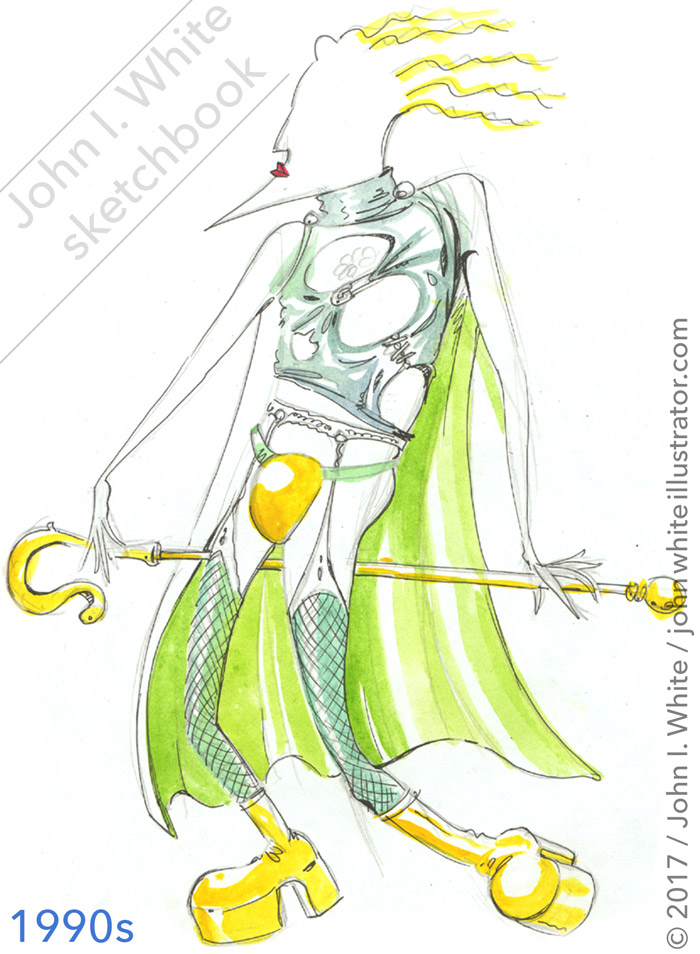 Case Study
The Brief: Fashion Designs with a St. Patrick's Day theme.
Done in gouache and watercolour, and fine black pen, on an A4 sketchbook; this was a somewhat unusual part of a set of illustrations that I did for an RTE Television show for St. Patrick's Day.
Somehow inspired by Vivienne Westwood, it's pretty racy and bondage-y, for a daytime TV show (was it a kids' one?). In retrospect, I'm not even sure that Westwood did stuff like this. Punk—yes, but maybe not the S&M styling. But there were no complaints! (maybe they didn't broadcast this one). I can't even remember the other tame innocuous ones in the set, except for a silly one that looked like a big Shamrock. I enjoyed doing this one. They were nice and quick, like a fashion designer's drawings. Just dashed-off.
Dustin the Turkey
It might have been done for 'The Den' TV show. Another illustration I created, which was definitely for The Den daytime kids' TV was a painting of Dustin the Turkey, in the style of Leonardo Da Vinci's Mona Lisa/La Gioconda. That was terrific fun too. I wonder what ever happend to it? I never got it back. It might be worth a phone call or an email to see if I can at least get a copy—for the crack.
Bondage, weirdness, etc.
It's definitely not an interest of mine, but I will say that I did a TV Outside Broadcast project in Film School, on location at Harold's Cross cinema when they still did the Rocky Horror Picture Show screenings every Friday. We filmed and interviewed the fans in their costumes. I remember the guy who dressed as 'The Space Commander' telling us on camera that he made the costume from Lino; and quipped, "So me kitchen floor at home is missin', so it is!"
Illustrator: John White
Media: Gouache and watercolour, Fine Line Black Pen, on A4