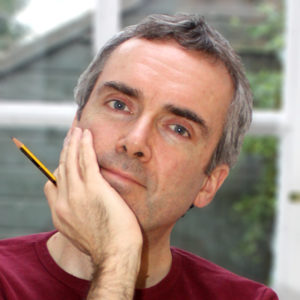 More folios on
Behance
Follow John on
Behance / Instagram / LinkedIn / Facebook / Twitter
Bio
Born in Liverpool to Irish and English parents, John lived in England and Scotland, and then Ireland in 1977—from the age of 9—until now. He's created in many fields—including music—and has made pictures and stories ever since he could hold a pencil. Inevitably, this led him to art college, intent on becoming a professional illustrator.
Since graduating with a BA in Design Communications (specialising in Animation) he's worked in animation; design for digital, print, and identity; and his first creative love:
illustration.
Style & Method
He's a versatile illustrator, working at times in a loose painterly mode, and at others with a precise vector-art method. He's drawn everything from girl gangs, politicians and killers—for the press, to animal characters and wacky pirates—for TV animation and kids' story apps. The blend of his art college grounding in visual education and fine art practice, animation industry experience, and a very educational childhood love of comics, has recently evolved into a more tactile-looking, painterly style on board and paper, which he augments and finishes digitally. The spontaneous, lively media of real paint, pencil and ink—first used for the press 20 years ago—has now been excitingly intensified with digital tools. Pencil comes first, then brushes, then the computer. This allows for an energetic 'hand-made' quailty, much valued in today's cleanly digital world.
Breadth of Work
A long-standing member of Illustrators Ireland (IGI), and now a member of The Association of Illustrators, John has extensive experience in illustration and artwork for apps and games, newspapers and magazines, books and comics and TV. His semi-autobiographical 1970s webcomic Between * Wars was nominated for Best Irish Webcomic by Irish Comic News. He provided animation for RTE television's Bon Voyage show title sequence which was ICAD Award nominated. And Galway Film Fleadh gave him an Official Commendation for his over-ambitious (and hence incomplete) animated graduation film, which was voiced by Eamonn Morrisey.
He's immensely enjoyed working as an editorial illustrator for top Irish print publications (and journalists and columnists), such as: The Sunday and daily Irish Independent and The Irish Times newspapers; and Hot Press and U magazines.
Influences
A lifelong fan of fantastical pop culture, he's often immersed in science fiction and otherwordly spookiness—in cinema and literature. As a painter he's a fan of Francis Bacon, Lucien Freud, Klimt (among countless others) and 19th/20th Century art and design.
Public Speaking
He's an experienced presenter on his own work, on how its done, and on creativity; for audiences of Irish Television, Australian Radio, and as a guest lecturer in third level colleges, including a now annual talk on Webcomics at Ballyfermot College of Further Education. In schools, he's taught art part-time and given art workshops.
Clients/Brands Worked With
Art & Illustration
Anderson Advertising Arks Advertising Coca-Cola Checkout Magazine Discover Ireland Hot Press Sunday & Irish Independent Newspapers Irish Times Prudential Insurance RTE Television U Magazine…

Art Direction & Design (agency employee)
Jameson AIB Failte Ireland DCC YHA uk International Rugby Board Irish Software Innovation Network CRO Arthritis Ireland McCann Fitzgerald
On Behance / on Illustrators Ireland / On AOI
Instagram / LinkedIn / Facebook / Twitter
Contact John
Please feel free to contact me
with illustration or design commission enquiries
(or glowing praise :D). Thanks.