A fun illustration about Irish comedy series Father Ted, for the Sunday Independent newspaper.
I don't have a record of the writer of, or title for the article.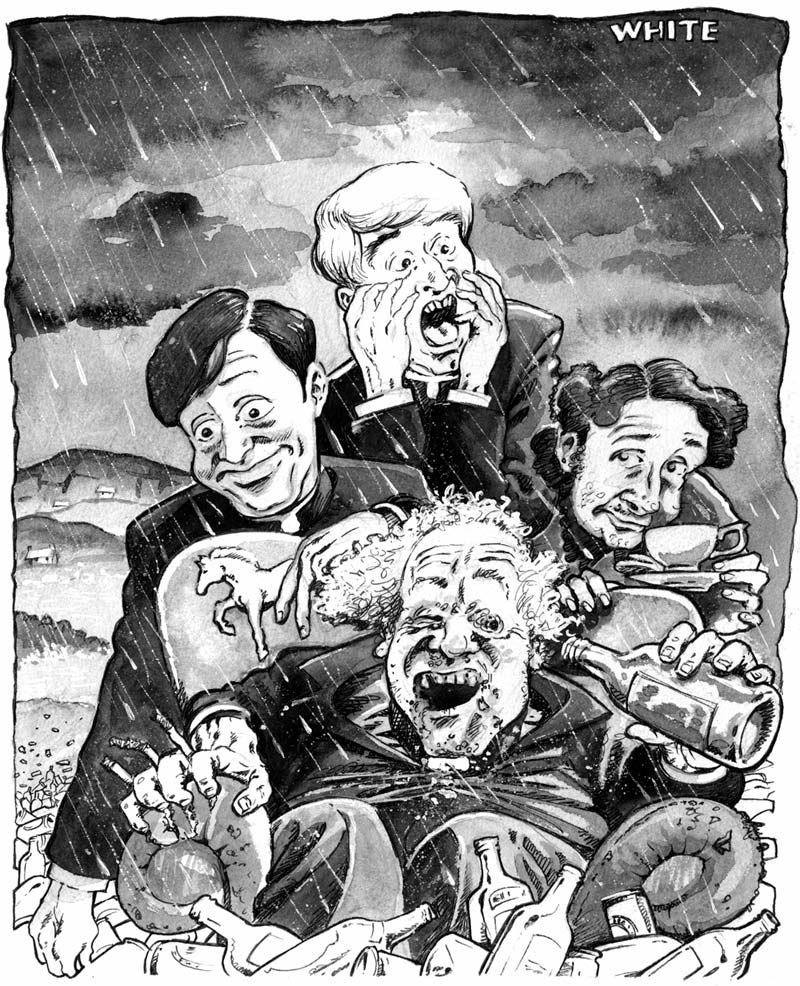 More Background…
This wasn't the only Father Ted-related illustration that I did for the Sunday Independent newspaper, it was the second. By the time I did this one, Ted was hugely popular.
But… when Father Ted was to premiere its first episode on Channel 4, I was asked to do my first Ted-related illustration for the TV review section, written by Eilis O'Hanlon. The reviews included Father Ted and the BBC's long-running series, Have I Got News for You, among others.
Myself and 3 friends came home from the pub on Friday night and watched our recording of Father Ted, episode 1, which had aired earlier in the evening. And we absolutely loved it!
Next morning, I got to work on a cartoon (above) which incorporated Have I Got News for You and Father Ted. I was alluding to 2 things:
Dermot Morgan's first big break into British TV, and…
An actual Irish TV attempt, a couple of years past, at creating a show like Have I Got News for You—hosted by Dermot Morgan. Called 'Newshounds' (I think)
Incidentally, I wasn't to know that Angus Deayton would later be dropped from Have I Got News for You. It wasn't my fault!
I was asked to proceed with the cartoon, even though I still hadn't been sent Eilis' review. Risky, because it's usually expected that the illustration will reflect the article. When I finished the cartoon, I sent it to Eilis and the commissioning editor, and spoke to them on the phone. I told her that I loved it, but she wasn't impressed with episode 1 of Father Ted at all! The commissioning editor—thankfully—didn't seem worried. Later, when her article included the line, "It seems that our cartoonist loved it, poor chap!" it made me chuckle. I think she might have mentioned that drink was involved, too!

When we talked about it later, the editor told me, "I love that sort of thing." I think it was as if we broke some sort of editorial 4th wall, where there was a dialogue between the writer and cartoonist—even if we were at odds! I suppose it made an interesting change for him, to see such a thing.
That conflict of views was a fun aspect of that commission, but it's not something that I'd subsequently do on purpose!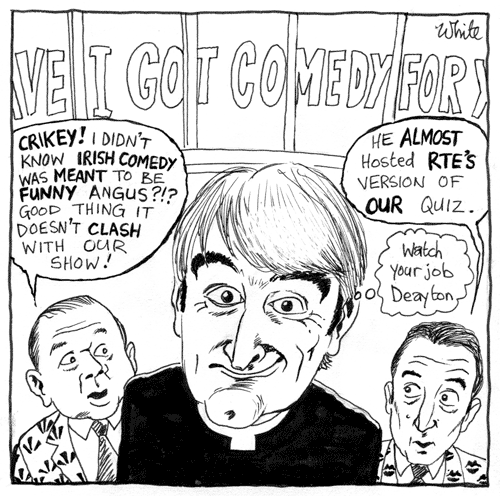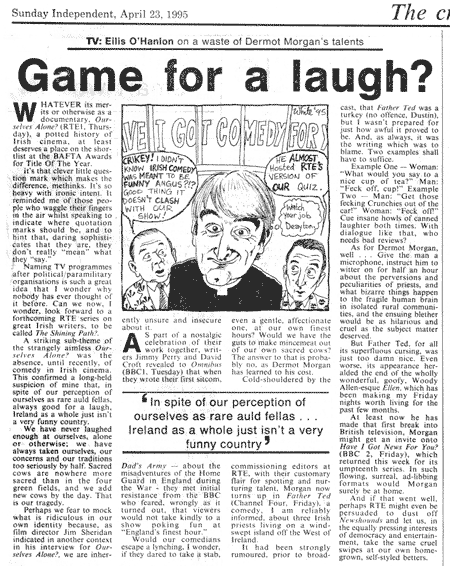 Illustrator: John White
Media: Ink, Watercolour, pencil, on Watercolour Paper
Client: Sunday Independent Newspaper
Writer: Eilis O'Hanlon (on the review article)