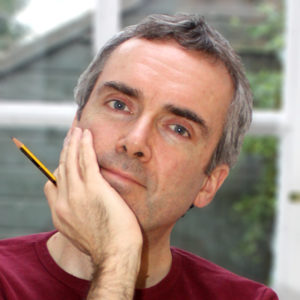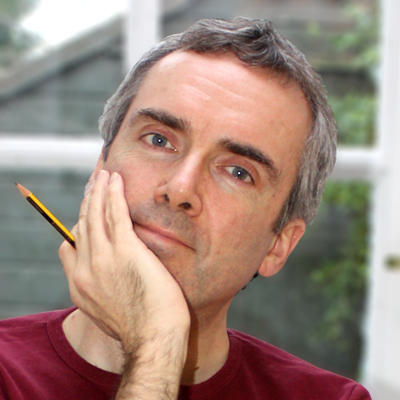 A visual-creator since I could hold a pencil
Well hello there! A former, long-standing member of Illustrators Ireland (IGI), I've extensive professional experience in illustration & artwork for Apps, Games, Magazines, Books, Newspapers, TV and comics art. I even used to be an Animator! I've hugely enjoyed working as an illustrator for some of the top print publications in Ireland. Such as: The Sunday and daily Irish Independent and The Irish Times newspapers; and Hot Press and U magazines—to name just a few.
Creativity: the irresistible impulse
Creativity's not a necessary evil for the 'day job'—it's an irresistible impulse
I've been a visual creator and visual storyteller for as long as I can remember. I probably started drawing and making images in earnest when I was about 3, after we moved from Liverpool to Leigh in Lancashire, England. And I never really stopped.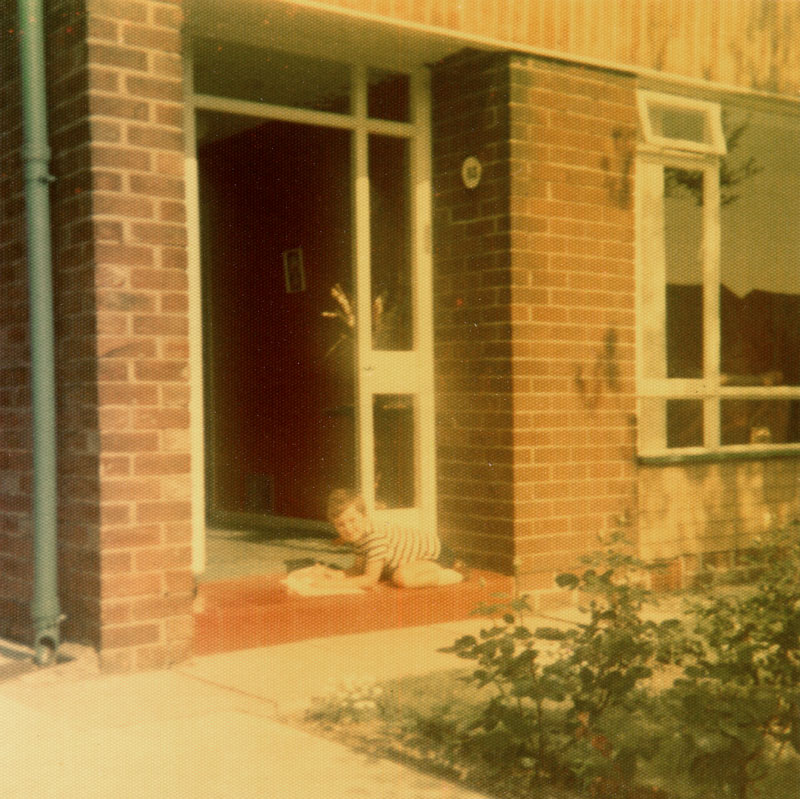 Drawing & Making Comics
When I was 4 or 5, I loved drawing, and I loved comics. Soon I had a go at it myself and produced lots and lots of them. This would become a trend in my youth: experience creative work by others which you love, and then do it yourself—passionately. (In adulthood I'd eventually return to making comics, for fun) I even published two of my childhood ones online (Star Wars age 9 and Alien age11)
Making Photostory 'Films'
As a kid, I also loved movies—like most kids. But what did I do? I got my friends together to shoot what we called films, on a stills camera in Black & White. They were like War or Sci-Fi photostories with the story written on the back of each photo. I'd even do comic adaptations of them!—much in the way that Marvel adapted Hollywood movies like Star Wars. Later in art college, after foundation year, I studied film and then specialised in animation. I worked in that industry through my 20s.
Illustration & Animation
A few years after we'd moved from Scotland to Ireland—I became dead keen on animation too. I entered an animation contest on Irish TV, and won. Later, in art college, I realised that there was no Irish comics industry for me to work in! So, interested as I was in animation anyway, I studied it passionately and ended up working as an animator for many years, through my 20s. Eventually I crossed over into illustration for Newspapers and magazines, when animation in Ireland took an unfortunate temporary downturn. I basically adapted to get the work, but it was a natural for me to illustrate.
Making Music, Home-made Magazines & Books
But back in my teen years, I also got crazily into music. Once again, what did I do? I learned guitar, formed a heavy rock band with friends, wrote songs and became the lead singer and joint- guitarist. We gigged. Later in my 20s, when we went our separate ways due to college, emigration—and life, I became a solo performer and played residencies and festivals. Actually, initially I didn't have a guitar, so I made one—of sorts—from an old door. So, I was continuing the impulse to 'have a go'. I had a serious go at that alongside all of my other creative work and passions for a couple of decades.
Visual Design
As I said, the animation boom went bust in Ireland and I adapted, easing over into professional freelance Illustration for a couple of years. But then Graphic/Web Design as new digital media and the web really took off. I've worked in that field for most of the time for nearly 2 decades now, in-house and in the services, products, and non-profit sectors.
With so many strings to my bow, I'm always keen to bring them into my design work. It'd be wonderful to eventually synthesise all of them—the design, the illustration, the animation, the writing, the storytelling, and the music—into one. But above all, being as creative as I can:
in the day job—and on the side—for fun!
I've hugely enjoyed working in the non-profit sector with charities and social causes, and in our Cultural and Historical Heritage, but I've worked in various sectors.
So: not solely an Artist/Illustrator
I've also Art Directed projects, in my designer capacity—at agencies – for
Jameson Whiskey
AIB
Failte Ireland
DCC
YHA uk
International Rugby Board
Irish Software Innovation Network
CRO
Arthritis Ireland
McCann Fitzgerald…
Accustomed as I am to Public Speaking…
Television
RTE 2: Two Tube. Youth programme. Interview/Feature about my comics and being an illustrator
RTE 1: Live at 3. Live music performance, with Pat Martin
Radio interviews & Podcasts
RTE 2FM: Moloney after Midnight.
Interview and live performances, with fellow musician, Pat Martin
Live performances for their Christmas radio show at a concert in Dublin, with Hazel O'Connor, Aslan,
Ausfans Radio Network (Australia).
Interview/Feature about being an artist, Illustrator, comic creator and fan
Other
Ballyfermot College of Further Education, and Athlone Institute of Technology
For 3 years, I've give my annual talk to the illustration, Animation and Graphic Design students, about being an illustrator of Webcomics.
Resume (Relevant)
Experience

Illustration/ArtEditorial & Books, TV, Story & Games Apps, WebsitesSunday & Irish Independent, Irish Times, Hot Press, U Magazine, RTE TV, Prudential Insurance, Discover Ireland
AnimationAnimator, Director, Storyboarder
(Co-owner of Heavensent Animation)
TV ads, Pres, Opening titles, Stings, FXRTE TV, Arks Advertising, Anderson AdvertisingAnimator and Assist. Animator
(Employee)
TV Show, TV Film, TV AdsMurakami Wolf Swenson, Emerald City, Moving Still Animated
Visual DesignIn client-facing and in-house roles.Digital/Print/Identity Design
Software & Tools

Adobe:
Photoshop
Illustrator
InDesign
Animate
Fireworks
Toon Boom:
Harmony
Storyboard Pro
Spriter
Ink, Pencil, Paper, Paints
Skills

Illustration
Drawing
Animation
Storytelling
Storyboarding
Character Design
Comic Art
Comic Writing
Comic Colouring
Comic Lettering
Digital Art
Digital & Print Design
Identity/Branding Design
Creative Thinking
Creative Writing
Team-working
Public Speaking
Video Editing
Education (Relevant)

BA, Design Communications—Animation
Institute of Art, Design & Technology, Dublin
Storyboarding for Animation
Animation Skillnet, Dublin
Pre-production Design for Animation
Animation Skillnet, Dublin
Toonboom Harmony
Animation Skillnet, Dublin
Adobe After Effects
Animation Skillnet, Dublin
Brands & Cos worked for/on

Anderson Advertising
Arks Advertising
Coca-Cola
Discover Ireland
Failte / Ireland.ie
Hot Press
Houghton Mifflin Harcourt
Independent Newspapers
Irish Times
Prudential Insurance
RTE Television
Teenage Mutant Ninja Turtles
U Magazine